Third Streaming: a results-focused, purpose-driven consultancy, December 2022
Updates from our work with The Alvin Baltrop Trust
Altu x Alvin Baltrop Photo: Ryan McGinley / Courtesy of Altu
December 19, 2022
Dear Friends & Colleagues,
I am thrilled to announce our very first fashion collaboration between Third Streaming and ALTU, Joseph Altuzarra's genderful fashion brand which launched during the pandemic. The Altu x Alvin Baltrop capsule — which 'dropped' last week — is a collection of limited edition, high quality fashion staples including cropped leather jackets, oversized leather pants, hoodies, and soft crewnecks featuring Alvin Baltrop's unflinching and poetic images. Proceeds from the sale of this capsule will be allocated towards crucial legacy projects, such as the preservation of thousands of negatives of mostly never-before-seen images.
Photographed by artist Ryan McGinley and modeled by actor Isaac Cole Powell, we invite you to check out the ALTU x Alvin Baltrop collection at altu.world/ and read our exclusive press coverage at Vogue. Learn more about the work of Alvin Baltrop featured in this collaboration by following our recent posts on Instagram.
Alvin Baltrop's work continues to inspire artists across genres and disciplines, evidenced by the exhibitions and news coverage also included in this month's newsletter.  From Hilton Als's dedication to James Baldwin to the Black punk scene of Shotgun Seamstress, Baltrop's work clearly transcends categorizations and speaks to a search for authenticity and liberation that continues to resonate today. In our next newsletter will be highlighting select licensing projects that demonstrate the exciting range and scope of artistic outputs by a diverse group of creatives, all inspired by Alvin Baltrop.
Looking back on our accomplishments over the past year and looking forward to the plans for next year, I am overwhelmed with gratitude for you all. Thank you for helping us to champion a brilliant artist, who was deeply connected to his community during his lifetime and now deeply connected to ours. I wish you a joyous season, and I am eager to continue building with you in the new year.
With Heart,
Yona Backer
---
Upcoming Events and Exhibitions
Altu x Alvin Baltrop Capsule Collection
Read more in Vogue | Available exclusively at altu.world/
For its first ever capsule, ALTU is honored to present ALTU x Alvin Baltrop, a limited edition collaboration memorializing the iconic work of the late Bronx-born photographer. This visionary ALTU x Alvin Baltrop capsule partnership highlights some of Baltrop's more surprising and lesser known images, featuring quietly erotic nudes and subversive city scenes in black and white and little-before-seen color photography. A hand stretches out in the shadows, luminously lit at the fingertips, while the smooth indent of a curved spine is bathed in red light. In a city scene, a lone motorcycle is mounted on the grill of a truck cruising the empty streets of the West Side. Baltrop records not only the marginalized, but also the physical margins of the city where they take refuge—a hidden, and now lost, New York.
"I discovered Alvin Baltrop's work a little over ten years ago, and was struck then, as I am now, by the poignancy and power of his work. Part historical, part autobiographical, his photographs brim with raw sensuality and eroticism, yet are also full of tenderness and love. They are deeply touching and affecting, and I am so honored to celebrate Alvin Baltrop's work in this special collection."

— Joseph Altuzarra
Proceeds from the ALTU x Alvin Baltrop collection will help fund the preservation and digitization of Baltrop's brilliant archive, making the unseen seen, bringing the shadows to light.
February 24, 2023 – July 9, 2023 | Mead Art Museum, Amherst
A special iteration of God Made My Face, originally organized by Hilton Als for David Zwirner Gallery in 2019, explores the life, work, and legacy of James Baldwin (1924–1987) through works from Alvin Baltrop, Richard Avedon, Marlene Dumas, and Kara Walker, among other iconic artists, as well as archival materials.
"Baldwin's ways of seeing and being evolved through his relationships and exposure to the work of visual artists, during an era when the harsh realities of racial oppression were confronted with aesthetics emphasizing self-love, pride, and validation. God Made My Face explores Baldwin through his words, relationships, and the works of other artists produced during his own lifetime and today." 
A Recent Look Back
November 16, 2022 – November 21, 2022 | Koelnmesse, Cologne, Hall 11.2, Booth B-119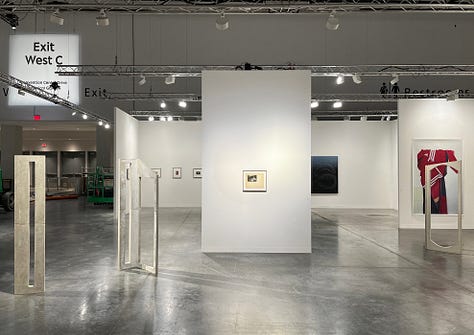 December 1, 2022 – December 3, 2022 | Miami Beach Convention Center
In the News
Poet and National Book Award winner, John Keene, talks about Alvin Baltrop in his acceptance speech.
"Davis would tell me about Alvin Baltrop, the New York photographer, and I'd interview him. Travelling and touring made the zine what it was."
"I just loved the photo so much," she says. "Presumably it's a gay man enjoying a moment alone at the piers, and I loved that sense of freedom in his aloneness."
---
Instagram • Twitter • Facebook
For more information on Alvin Baltrop, please visit our website. Please contact Galerie Buchholz for any sales related inquiries.